Introduction
The Demo Forum recognizes the importance of protecting your Personal Information.
This Privacy Statement provides you with information about how we collect, use, and disclose your Personal Information, and the rights you may have with respect to your Personal Information.
Scope
The Demo Forum is a business-to-business (B2B) information provider whose customers are technology vendors offering products in the various markets we serve. Our service is a video based forum that a), enables vendors to convey a detailed view of their offerings to prospective customers to help them understand the capabilities offered by their advanced technology products to thereby help prospective buyers make the most informed buying decisions possible.

Opt-In Policy
In accord with current data privacy practices we will not provide your contact information or any other data that specifically identifies your specific identity beyond "persona" based data such as industry, seniority and geolocation without your specific request or permission.
We will actively ask you to identify vendors whose products are of interest to you and will offer a range of engagement levels that suit your preferences and thereby enable the vendor to provide the opportunity to provide additional information, set a meeting with you, or to supply information such as pricing, datasheets, or other specific information that required to make additional decisions regarding their product.
Be assured that we collect and process such Customer Data responsibly and in compliance with applicable laws, regulations, and customer contract obligations and that your data will never, under any circumstance be provided to, shared, transferred or otherwise conveyed to any person or entity without your permission.
Opt-In System
The Demo Forum will provide the opportunity for you to engage with users at your preferred level, and via whichever form or channel of communication you prefer.
In support of your mission we do ask that when you identify vendors whose products do suit your interest that you express that interest to us and thereby enable us to connect you to vendors to enable them to understand that The Demo Forum was the resource utilized to learn about their offering.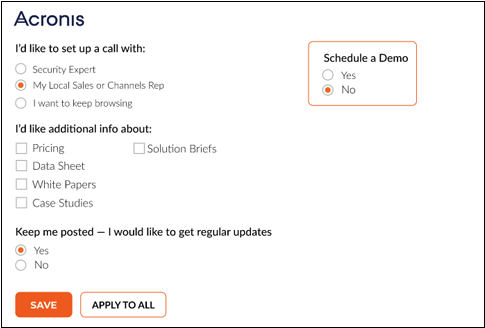 The rich informational resource that The Demo Forum creates is provided to you, the user, at no cost and provide the our content to enable a rich and easy flow of detailed technology information from vendors to buyers and it is our intent that you feel comfortable to consume content from a range of vendors without hesitation.
Prevailing Policies
If you are a resident of the UK, European Economic Area (EEA), you have additional rights, which are ordained under the General Data Protection Regulations, or GDPR. These rights apply regardless of whether we collect your Personal Information through our Sites or through other means.
If there is a conflict between this Statement and the terms of any written agreement between a Demo Forum customer and The Demo Forum, the terms of such written agreement will prevail.